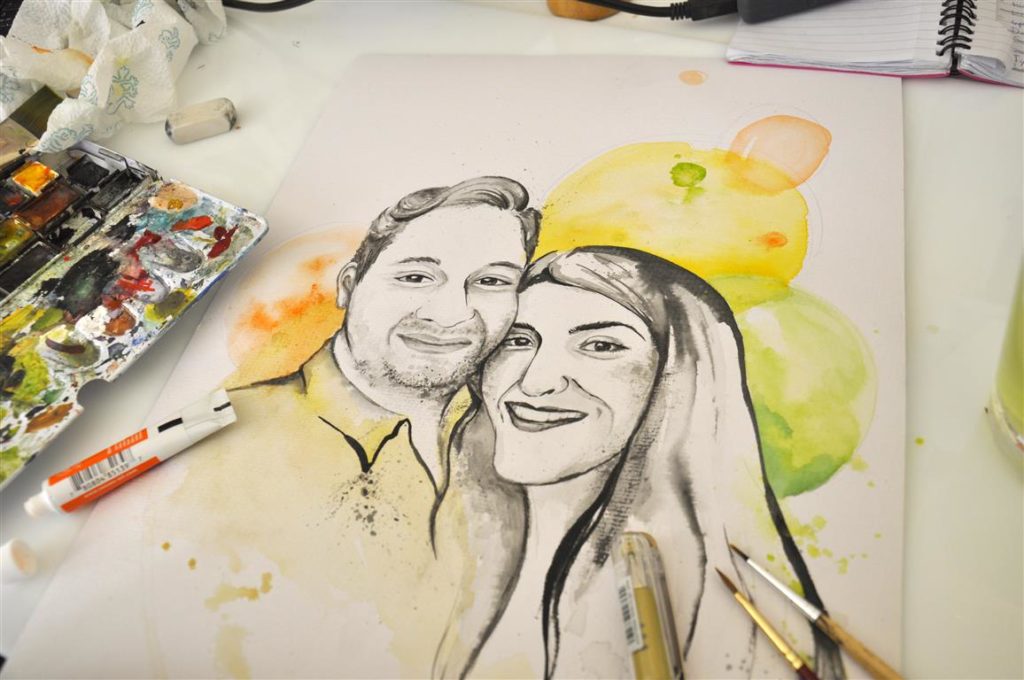 I really love it when I get commissions to do personal pieces. For people who want to gift something to people they love. It makes me work all the harder to give them something everyone will enjoy, to liven up their wall and make them think fondly of each other.
However, at the same time I also really fear these commissions out of worry I won't do the real person justice in my image. Yes, an artistic image does not necessarily mean it has to represent absolute likeness and I am aware of my artistic freedom, but you do worry that if they can't see themselves in the image, or a bit of their soul, their personal essence, then have you failed?
It's a bit of a tight rope to walk on. But usually the rewards are worth it.
This time I actually surprised myself with the ease of drawing, I had so much joy bringing the faces to life from a simpler pencil sketch to a full ink drawing with some light watercolour shading. I actually added some gold pen geometric details after, but somehow I totally missed taking a final picture! If I get a hold of it, I will post it back here.
Time spent: 4hrs ttl (incl sketching)
If anyone would like to request a commission similar to this, just contact me! I will also happily answer any questions.
Now this is something I won't repeat too soon but it was totally worth it. My really good friend is half irish and half iranian. She asked me quite a long time ago if I could create an art piece for her that could represent the two sides of her heritage and family. I was intrigued by the idea, not only because of the challenge to mix 2 such different cultures in an artistic/ visual way, but also because of the rich visual language the two cultures possess.
How could I represent the two equally and in an authentic way, without it becoming kitsch or too overloaded?
After some searching and thinking I decided to settle on the fantastic abstract visual language that both cultures have in common. Pattern design. When I hear "celctic" and "middle-eastern", in a visual sense I immediately think of the pattern and symbol designs that permeate their whole culture.
To me, this was the ultimate way to blend the two seamlessly and give them both space to be their own at the same time.
After a lot of research I picked patterns and symbols that spoke to me, worked well together and represented themes that I wanted to include as messages to my friend. I loved the process of creating one piece out of many and at the end I realized there were more commonalities than I would have ever guessed. It truly became one blended piece.
I also decided to add a fitting quote into the center to give the piece purpose and to strengthen the message of the artwork and its background. A modern simple font helped ground all the extra decorative artwork surrounding it.
Once the layout and design had been created, I started the real work. Drawing out each pattern design onto a large A2 sized sheet in gold ink pen. By using only one colour, the artwork would become fresh, modern, but also joint. After a while I almost cursed myself for choosing such a large scale, drawing so many patterns took over 20 hours in the end. It was a real strain on my hand, but the result was oh so worth it.
So here it is, all hand drawn in ink pen: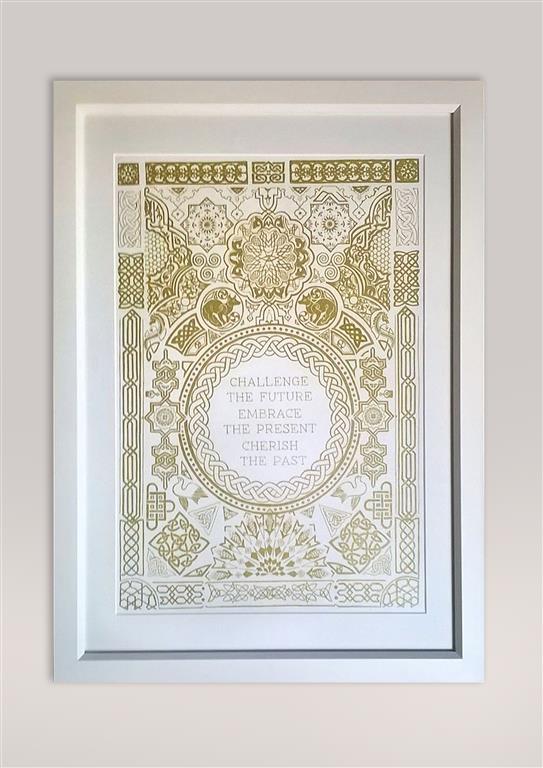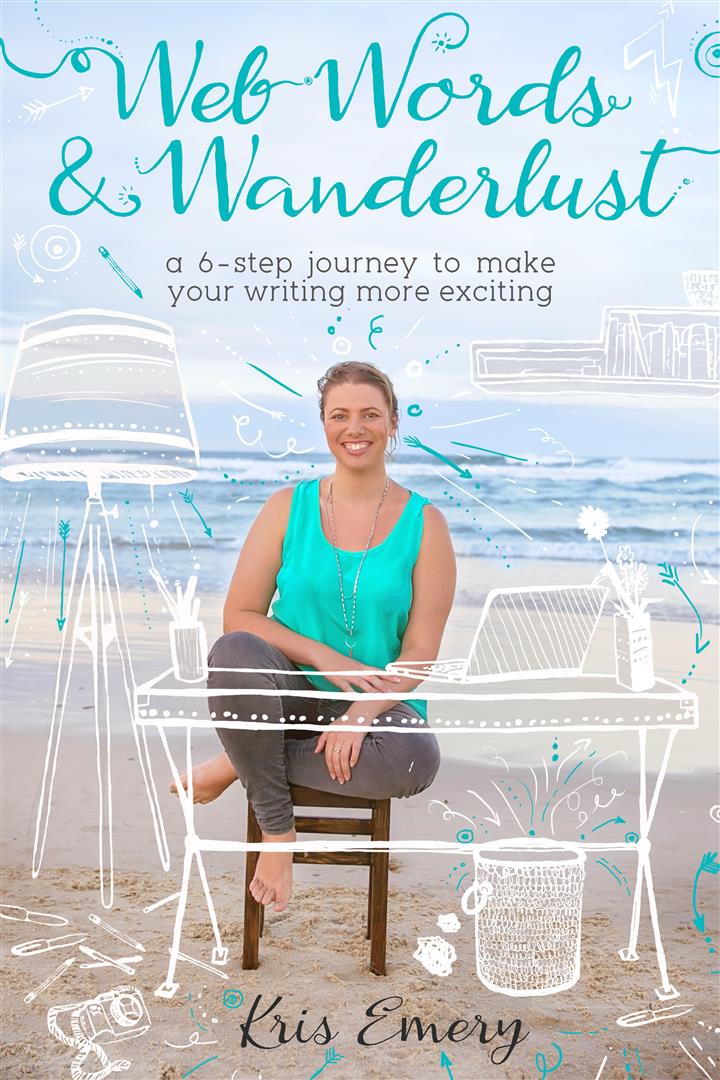 The last couple of months I had the pleasure of working on the cover and inside layout design of Kris Emery's new book Web Words & Wanderlust. Designing this little beauty was one of the best collaborations between client and designer, a happy relationship where both people "get" what it's all about, which vision we have for the feel and the look of it all. Translating ideas into reality was then just a breeze.
We started by nailing down the concept of doodles over photography pretty early on, an idea that excited us both and seemed to work cleverly with the idea of "what is an (inspirational) office" while working beautifully visually (who doesn't like ocean waves! 🙂 ). After the photo shoot, we picked our favourites and several "offices" were built up and elements moved around until it had the perfect feel. Handlettering the title and adjusting details made the whole design stitch together into one big burst of happy vibes.
So lesson here: Get into your clients head, know what they are all about, what is important to them, how do they speak, what does their audience respond to, which vibes do they want to spread. And vice versa, communicating clearly with your designer  and being decisive because you know your goals can really get a project to what you envision it to be.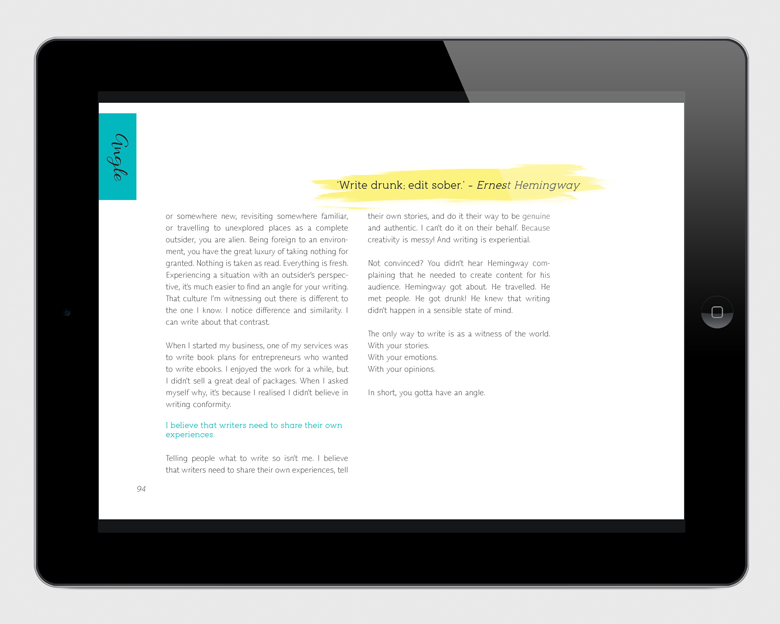 However, I did want to let you know what you can gain from signing up to/ buying this book:
I think a lot of people can relate to that time of being excited about writing, putting your voice and your ideas out there, changing things, building a business. Until it becomes a bit more routine and you know you have to be consistent with that outrageous content that will help so many people. Only issue is that, we are not all hyper excited all year round. And keeping the creation machine going without slowing down can become more of a drag after a while. Writing, first exciting, is now a bit more of a chore, because, omg, it's Wednesday already again and the newsletter goes out the next day.
This is where this book can help. Getting your groove back baby! Writing can be fun, and expressive and fuelling your own passions, frustrations, gratitude. It can be like a personal guide/ journal/ artwork, without sucking out your momentum and soul. Use it to your advantage, to see clearly, to get fired up, to motivate others.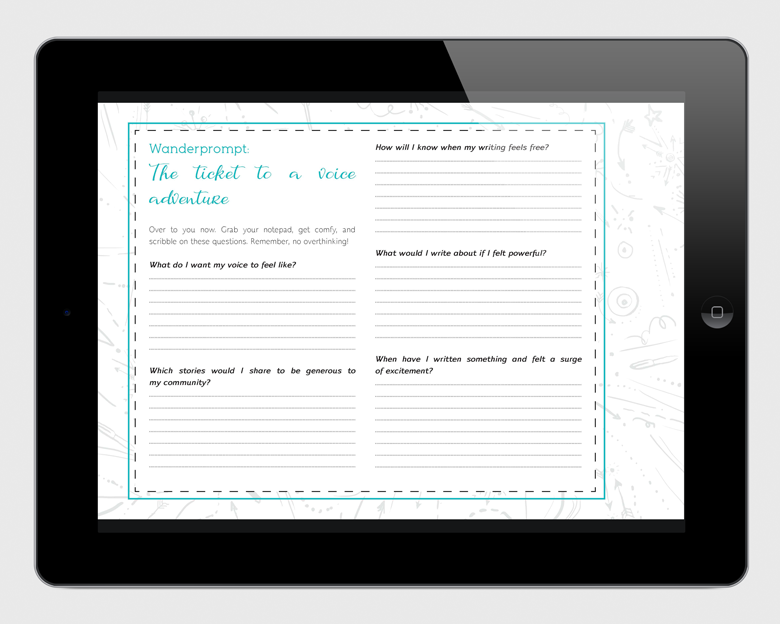 The book is full of amazing anecdotes of travel, personal experiences, prompts and experiments to get you back on track. Kris has had an exciting life as a location independent writer and her own life reflections help you navigate yours. I am really proud to be part of her product and I can only recommend getting this baby into your lap and starting to read. And then write. It's going to surprise you.
To be part of the movement go here: http://krisemery.com/fun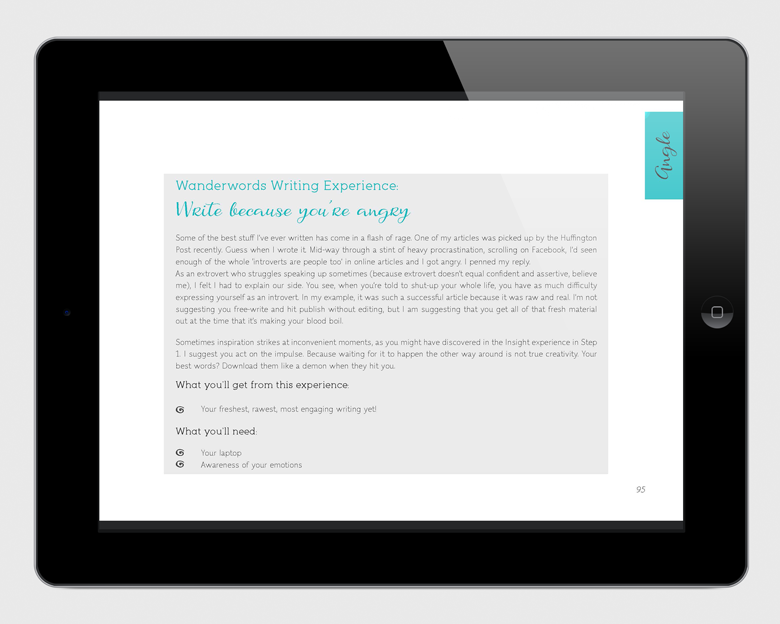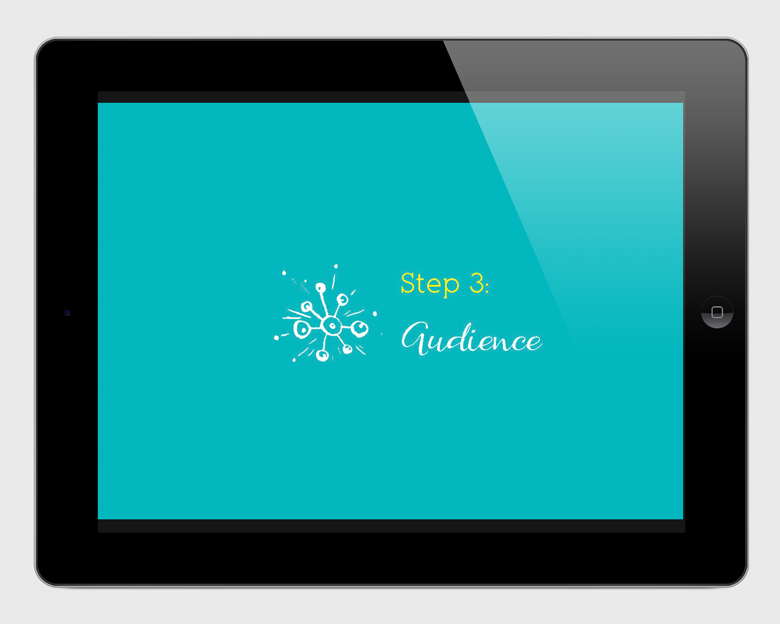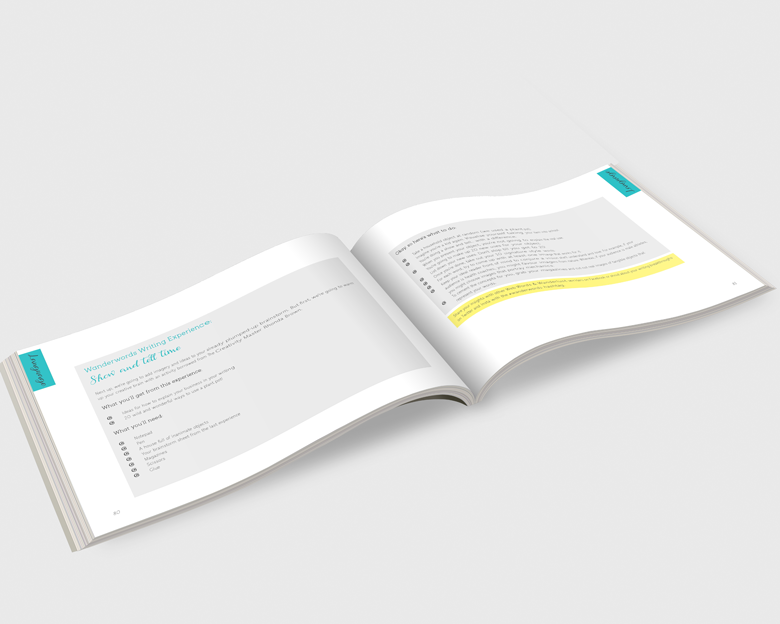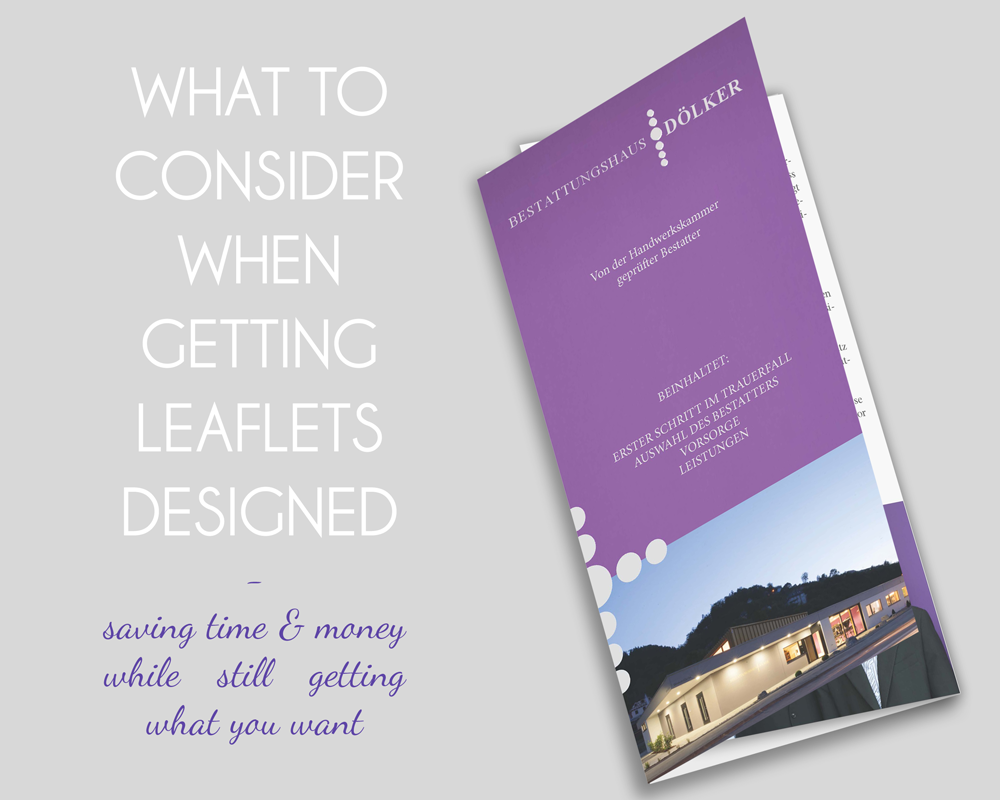 Above is a smaller design job I did lately – a 3 page roll fold flyer of simple design, tying into the high end brochure of the Bestattungshaus Doelker with ease by using the same design features that the "big brother" has, but keeping it more low profile.
Flyers are quick and simple to design if there is an existing style guide (i.e. more indepth brochure or website) already in place. This way the business can keep costs low for the design as well. This example was created in 3 hours.
Here some tips if you are thinking of getting a flyer made and want the job to finish quickly and without hiccups:
Have your content and text printready.
– That means pictures all in correct colour profile already, high res and no unsightly backgrounds etc to photoshop. If your flyer consists of products, have a clean white background without distractions.
– Your text should be final. Then the designer knows how much text to work with, can arrange it correctly right from the start and doesn't have to make adjustments later that might seem small but can cost time if they move the whole design around.
– Also, proofread your text, because designers are not editors. They will not check your text for errors, but if you find some later, it will be the designer who has to edit the corrections in the file, which you will have to pay for.
Keep it simple
– Firstly, the cost of your flyer is not only the design, it is also printing. That means, sticking to tried and true layout and folding choices will keep it simple for the printer and the designer, hence speeding up the process. You can still add "extras" or embellishments, like a die cut (special cut out shape) or enhancement of words like embossing or gold foil printing later if you have some spare in the budget and feel you need a bit more oomph. But keeping it simple at the start can help avoiding costs to spiral out of control.
– Secondly, a simple design with not too much going on (at least on the cover), can have a stronger impact, especially if it has to compete with very similar looking designs on a busy rack. You can stand out by drawing the eye to a design that is clean and calm – a rest for eyes that had to look at crazy designs all over already. Or just be different. Evoke curiosity by just having your company name and a pattern on the front for example, people will want to know what your business is all about and actually pull out the flyer and open it up.
Know yourself and what you stand for
– For this point the ideal is to have a "style guide" or clear cut branding already. The designer will take all the colours, fonts, images, patterns, etc that already exist as part of your branding and tie it into the flyer design. This will make the job easy and quick to assemble. And in the end you will have a design that will get recognized by customers who will see or have seen your other branding.
– If you don't have anything much to go on (yet), the best you can do is give your designer a clear idea of what your brand is all about. Who/ what type of people buy from you, which imagery speaks to you or do you think represents you well, what words/ colours do you associate your brand with. Let your designer know (a tip: a vision board or pinterest board can really help here!) and then trust them to come up with something great for you. They will get a clear idea of who you are if you informed them well and then take their skills to take these ideas to the next level.
So these are the main things that work wonders to get a design that represents you in the best light possible, is finished fast, keeps cost managable and that you like!
Til next time
Ina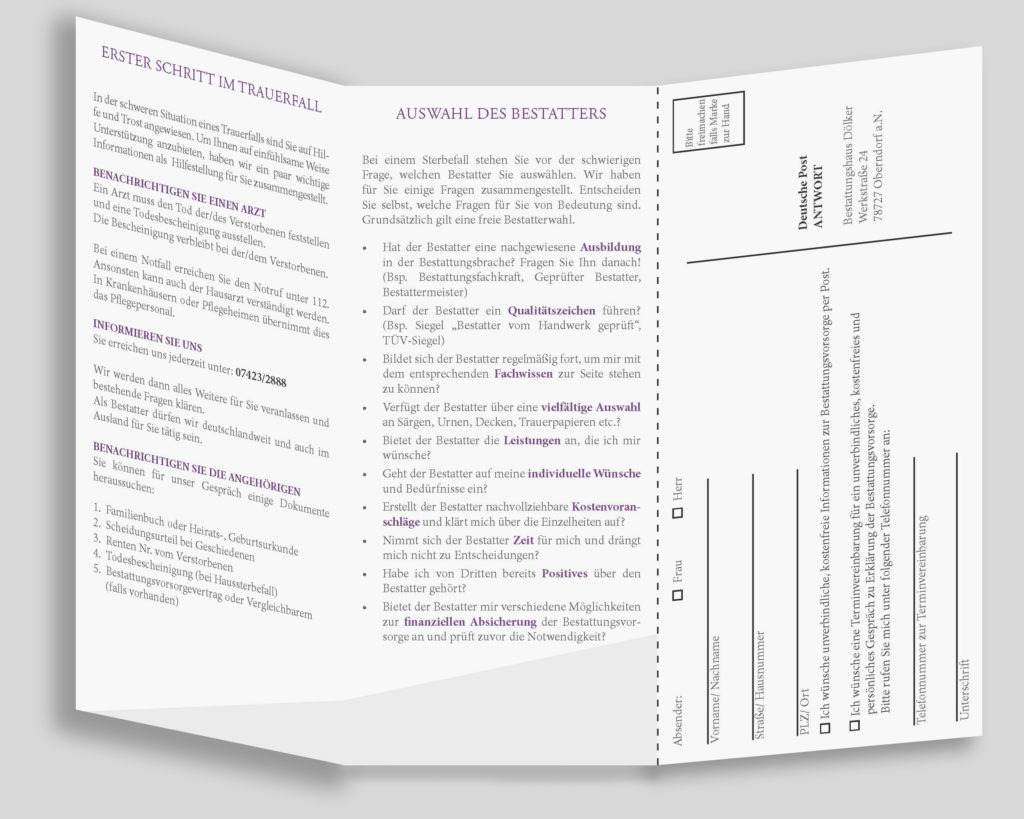 The big day is here : Sleepy Magic is now available to buy!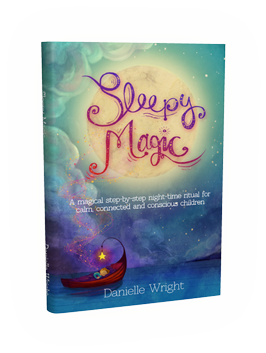 Anyone who would like to buy the book can now do so over at Danielle Wright's beautiful website: www.daniellewright.com
For anyone who doesn't know what I am talking about (or have been working on for the last few months), here is the blurb:
Do you want to become a toddler whisperer at bedtime, putting an end to the challenge of settling and sleeping? Or are your children a bit older and you are seeking a deeper, more rewarding bond? Are you searching for a way to give your child(ren) a strong sense of wellbeing, confidence and inner harmony?
This beautiful book is a gift to banish those sleepless nights, strengthen your relationship, while nurturing stillness and self-worth in your  children.
Sleepy Magic will give you the tools to help your kids become calm, connected and conscious children. Perfect for children aged 3 to 10, Sleepy Magic is a simple step by step night-time sleep ritual  that combines meditation, affirmations, imagination and an essential breathing technique. It calms your child, creating a loving and safe place for connection. It teaches them that the richness of life radiates from the inside out. With practice, this gift guarantees that you as a parent or caregiver can give and receive magic. 
The website also explains everything around Sleepy Magic and has additional resources. To get the affirmation and manifesto poster that I created for Danielle, sign up for her newsletter! It's a printable for your wall and will look great in any children's room.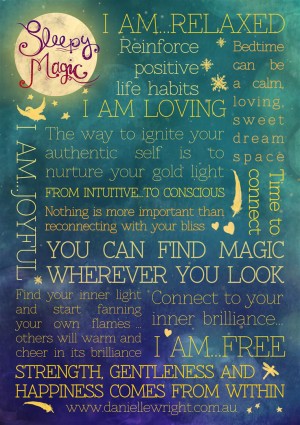 Here some pictures of the final result: Apart from the cover, I also created endpapers, little symbols and illustrations to go around the text and also 3 inside illustrations to enhance the 3 example stories in the book: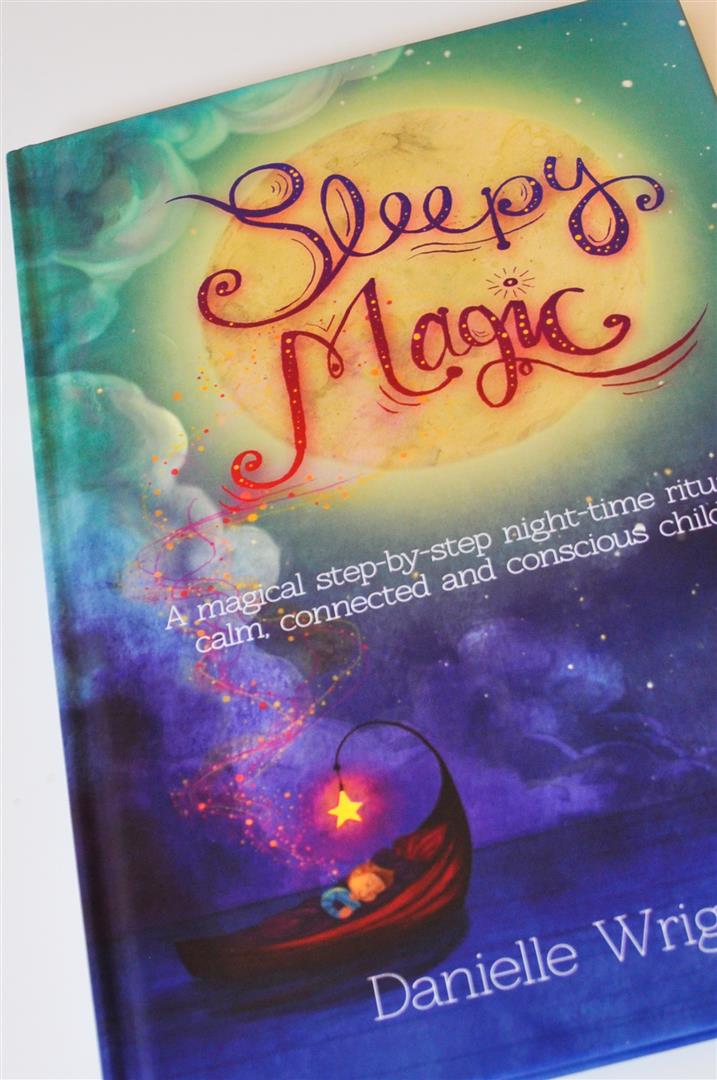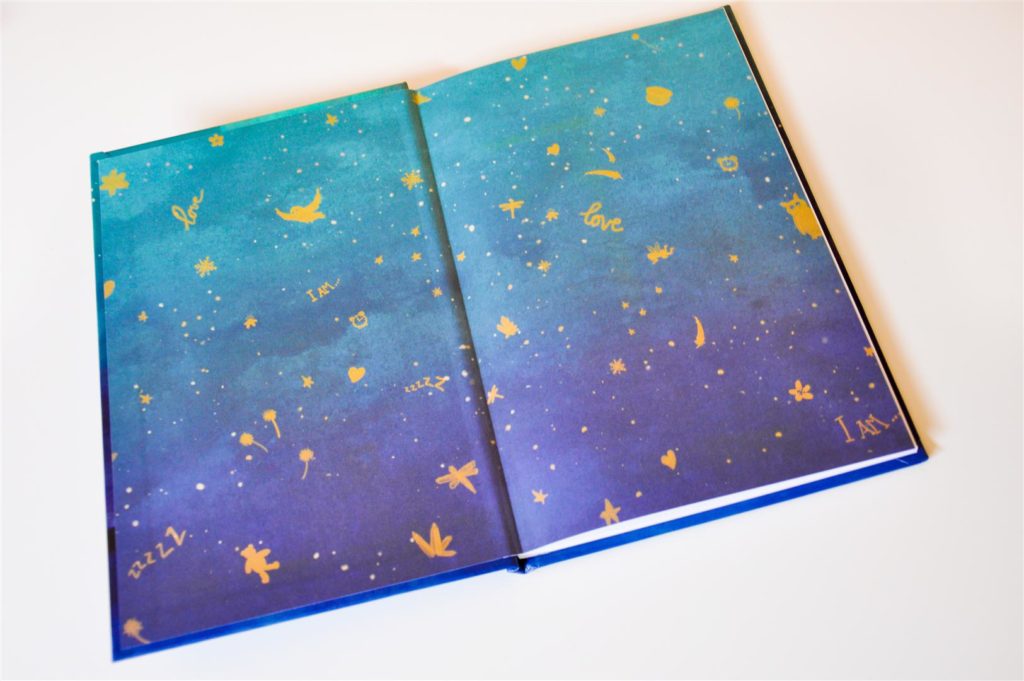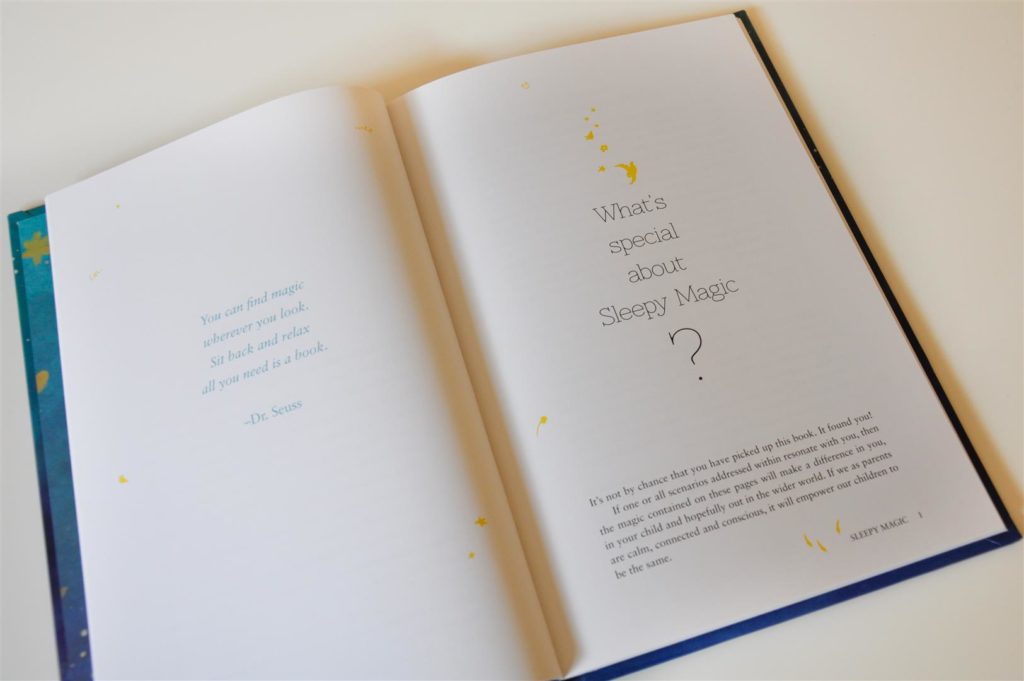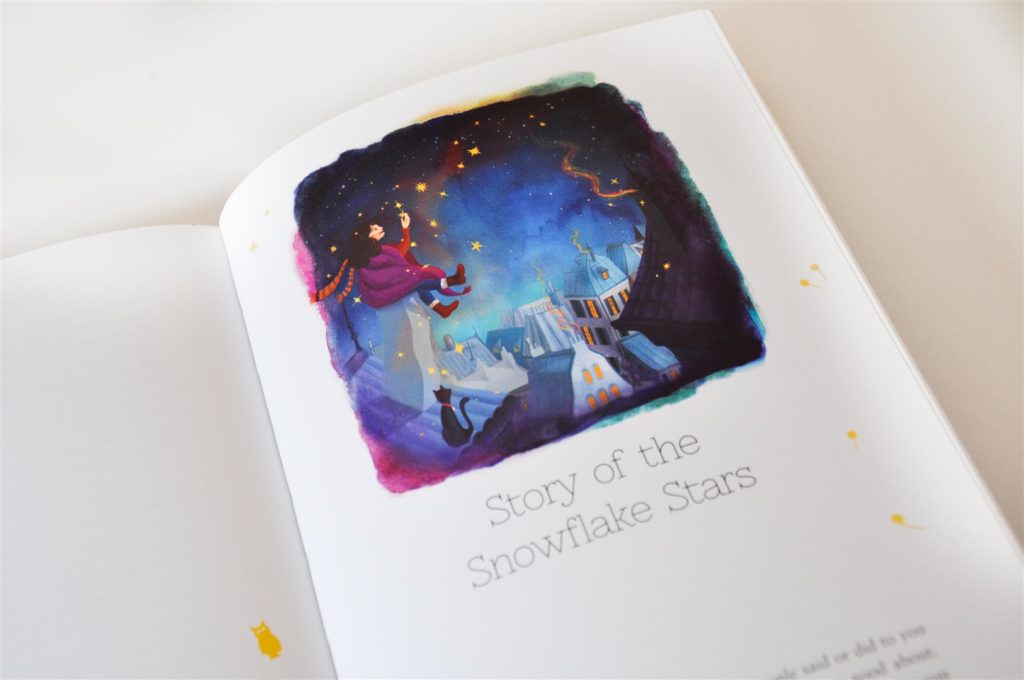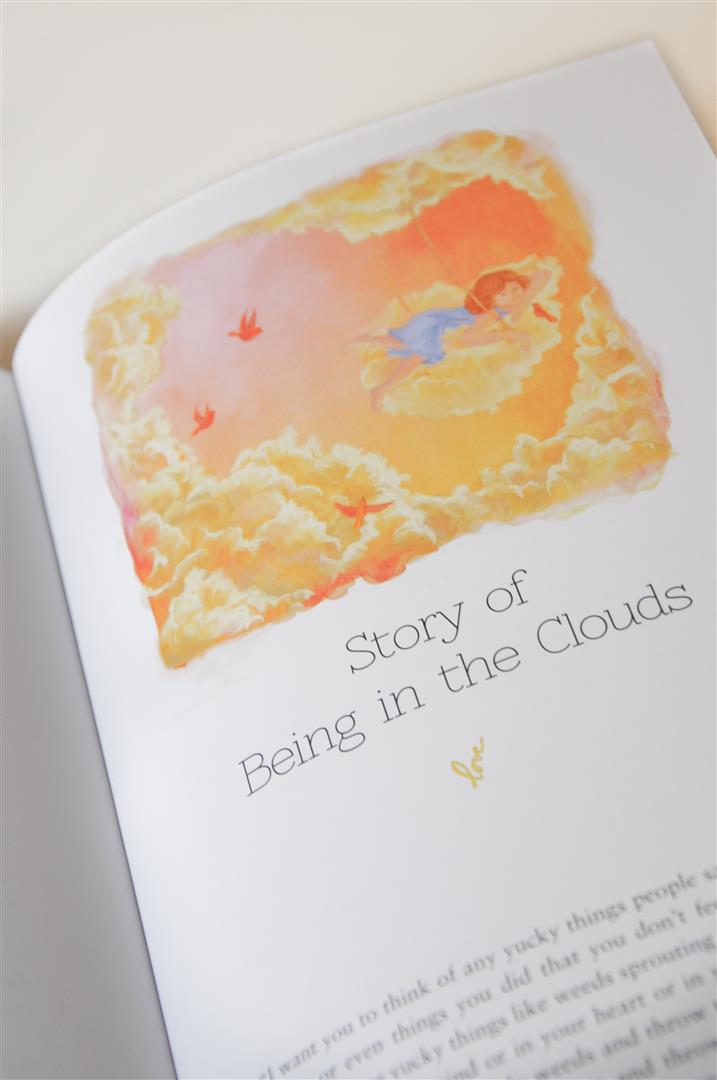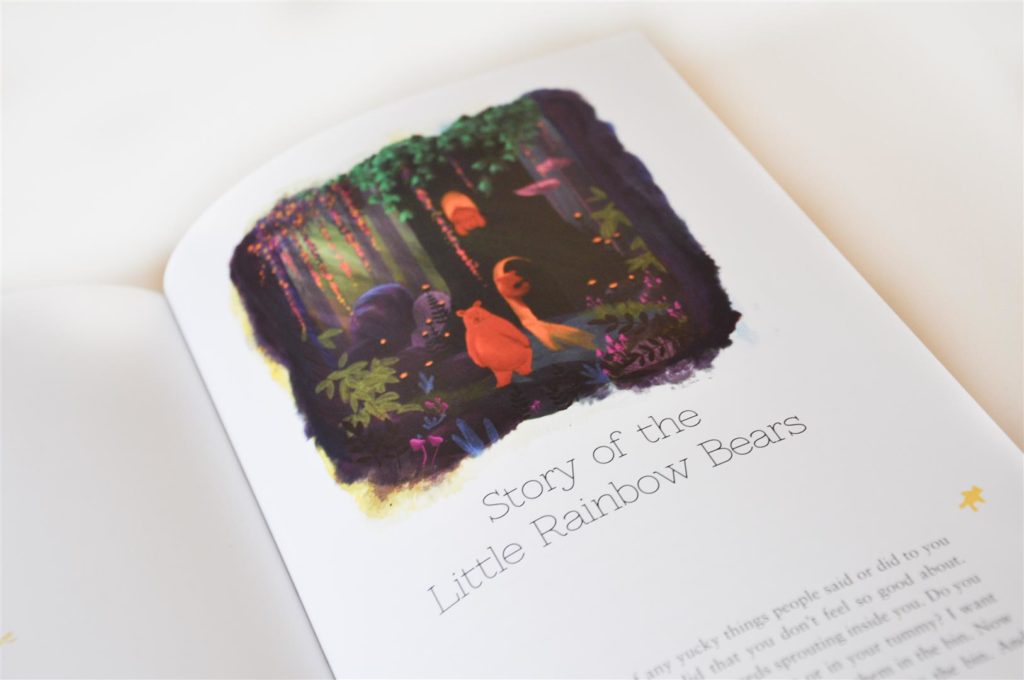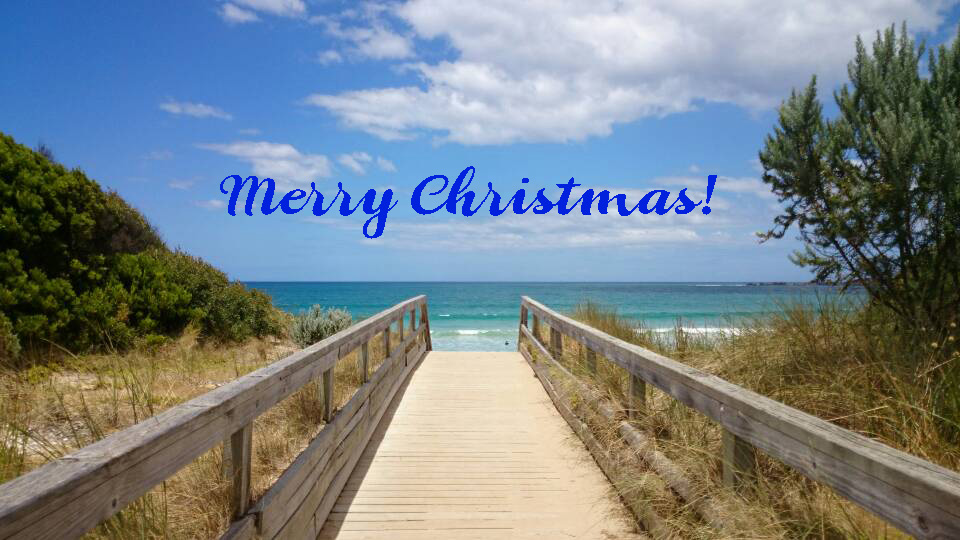 It is our very first Christmas in Australia! It has been absolutely fantastic living here so far, we have a new generous sized home (and finally… an office!), I found a job already to tie me over and Summer is here! I am absolutely blown away by everything in Melbourne already, every weekend is a discovery journey and there is so much to do, you actually run out of time!
We decided short notice that we would just have a small holiday over Christmas instead of being alone at home and we have a test road trip with our new little Nissan Pulsar. Destination: Great Ocean Road. It is really not that far from Melbourne and makes for a perfect getaway. We see one amazingly beautiful beach and forest after the other, enjoying wonderful food and driving along this coast is truly an outstanding experience. So I hope you all have a wonderful Christmas too, I wish you all a great holiday and New Year!
After pouring a lot of heart into it, we have completed the Sleepy Magic Book cover! It turned out great and the illustration supports the text beautifully. The idea behind it was to have iconic imagery but also evoke a feeling of calm and peace. As the book will be used by the children as much as the adults, it had to appeal to both audiences. Illustration is a great way to achieve that.
I created the illustration background, the title lettering and the typographic design and arrangement, so it works well together. Now the inner pages of the book have to be designed and they will go into printing soon. I am also going to be working on the ebook conversion.
So far we have both had great feedback for the book, what do you think?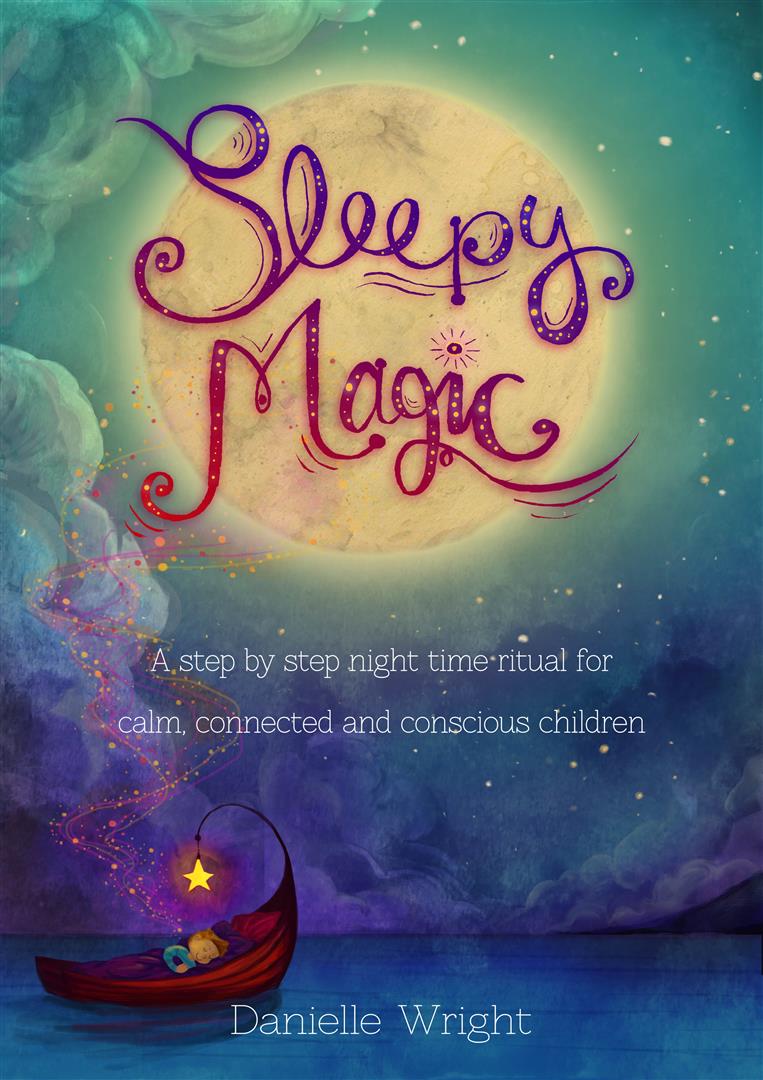 For anyone keen on purchasing the book, it will be available soon next year!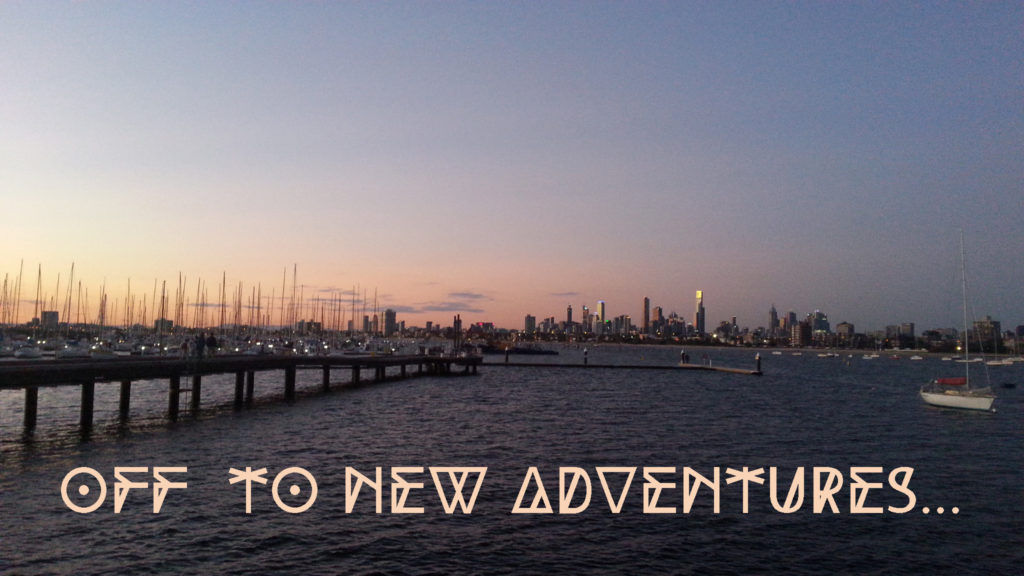 It's time to make changes again. After 10 years (almost) in New Zealand, I feel it's the right moment to make a move to the other shore. I will be moving to Melbourne – a design, art and buzz Mekka that has been calling me for a long time. I was hesitant at first: finding work (or losing the work I had built up so far), dealing with moving countries (where to live in the meantime?), finding new friends (I like the ones I have!), visa and legal stuff (do I need to say more)… it felt like a bit of a nightmare that I didn't really want to take on voluntarily.
But then I thought of a small pact that I had made with myself before I left Germany: To live in new places at least every few years. And if that's not possible, to at least stay for a while longer than a tourist would. I felt I had made part of that promise true, but way less than I could have. I had become a bit lazy over the last few years. I hadn't pushed myself as hard as I could have. I didn't seek out new experiences until they sort of popped up along the way. And I also felt that while I was proud of my achievements in New Zealand, I also thought that I hadn't achieved as much as I wanted to. I realized that if I didn't kick myself out of my comfort zone, I would stay in it. Once I had that thought, I know that all the moving "hurdles" were just excuses. I was going to be moving with my partner after all, I wasn't alone by any means! I had nothing to tie me down, like a mortgage, or kids or lots of family. I was free to do what I wanted and a little bit of effort and work would not stop me from using that freedom to the fullest.
The best way for myself to evaluate and decide what to do is this:
Imagine yourself in 10-20 years in the future. Will this future self of yours be annoyed that you didn't take the opportunity? Or glad that you stuck with something good? Will it be resentful because you let your life pass you by or glad with the consistency of your life?
For me it's a foolproof way to get to the bottom of my true feelings about a situation.
I am a person driven by experiences and even though I can get lazy, I know I want to live a full life. Even if it isn't all what I dream it up to be, I rather want to have tried to instead of never giving things a chance.
So that sealed the deal. I will be moving at the end of October, our possessions have already been packed and sold/given away, I have quit my day job, I have moved out of our apartment. It's getting real and I am getting nervous. But along the nervousness is so much excitement. It will be such an adventure.
I got commissioned to work on such a beautiful project, I can't believe my luck.
Danielle Wright is an ex marketing director who has taken a bit of a break from the busy-ness of business and discovered a whole new world with meditation. She has then taken things a step further and developed a way to introduce her children to meditation through a little step by step program that lets children get in touch with themselves and their parents while calming them down at the end of a long day so they can sleep peacefully. It's a wonderful idea with wonderful results.
So I am working on the book cover of "Sleepy Magic" a book that helps other parents achieve the same results with their kids. It will be a beautiful little book with a lot of focus on great design and it will invite parents to use the methods described with the support of beautiful imagery.
Danielle is an amazing client to work with so far and I can't wait to show you the progress we will be making with it.
I really love and admire the work of online magazines (or ezines), they create all this quality content for readers with partially very niche interests and it is all free. It's an amazing world we live in and there truly is no shortage of inspiration and information out there for the ones who dare to look!
I have the privilege to work with some of these amazing people once in a while and this time I was excited to hear from my friend Kris Emery, editor extraordinaire, that she wanted to create an online magazine for travel happy women who know how to live life to the fullest.
For this purpose she needed a logo for her online zine called "Seat of her pants" as in flying by the seat of her pants… when you just wing it! I love the concept and got right into creating a logo that would represent the spontaneous and fun personality of her readers.
Early on I developed the idea of a paper plane as it's unregulated flight path and dynamic shape would work well with the idea of flying … by the seat of your pants.
Below you can see a few of the earlier concepts which all helped me arrive at the final design, a simple circular logo with the paper plane around it in flight.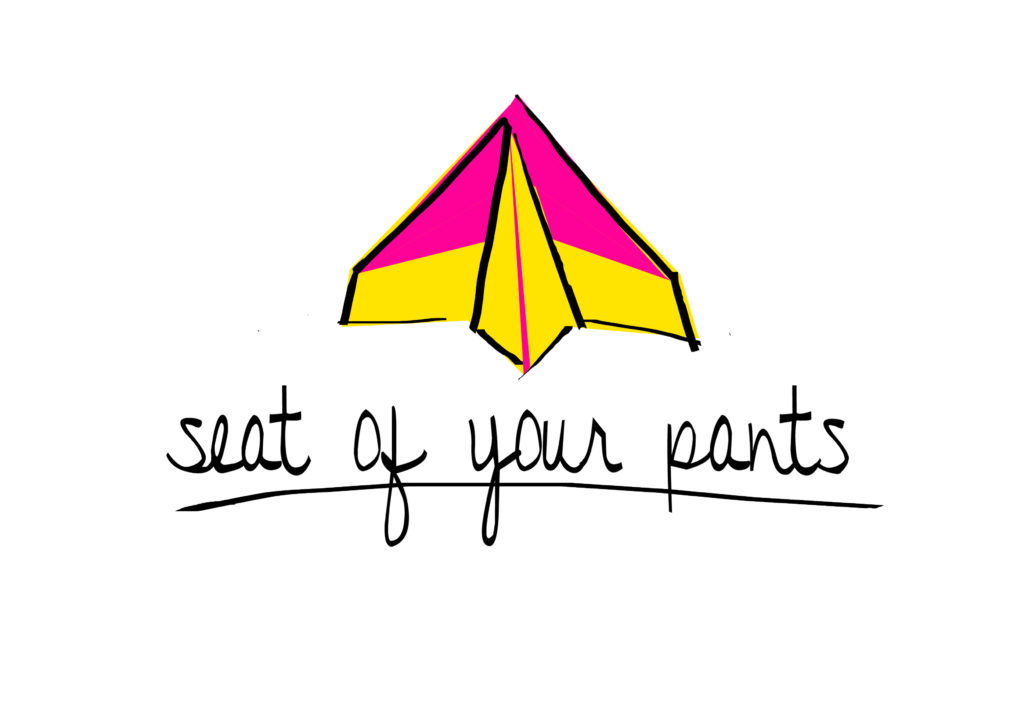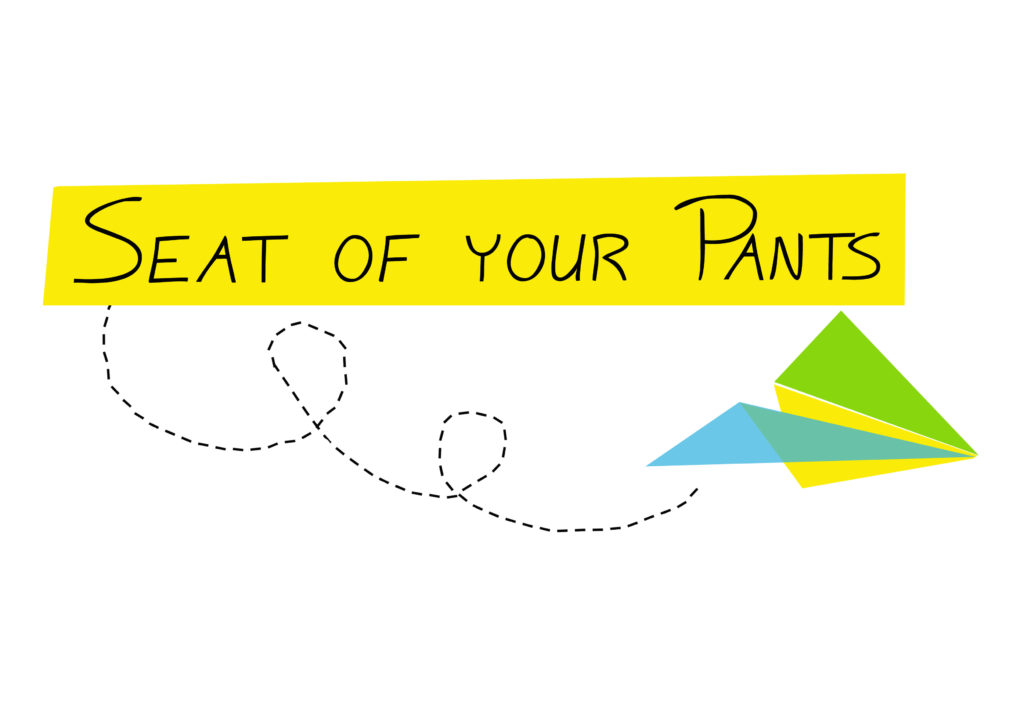 Here the final design, with a mockup of the page and some extra branding, such as patterns and symbols: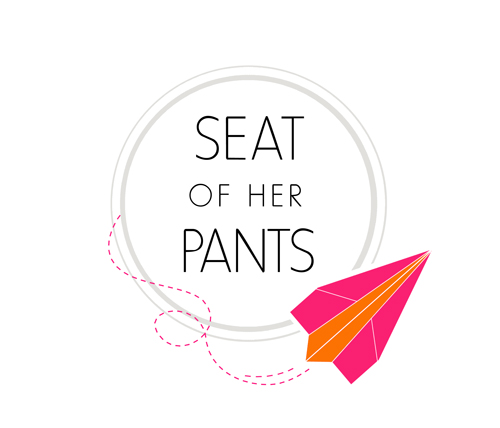 here the design presentation: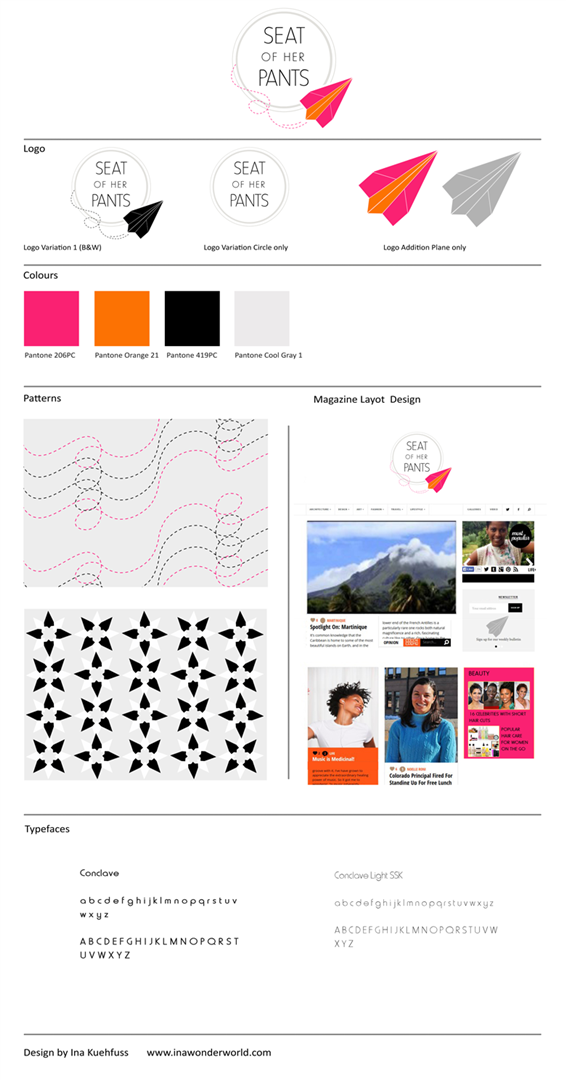 a mockup of the website: